Joint Planning Commission
Lake Placid/North Elba Joint Planning Commission
518-523-2033
2693 Main Street, Lake Placid, NY 12946
Dean Deitrich, Chair
CONTACTS
Technical Steering Committee
Dean Dietrich, Chair
dietrich@northnet.org
Bill Billerman
bbillerman@netscape.net
Bob Marvin
marvinls@adelphia.net
Michael Clarke
clarke@hughes.net
Jim Morganson
planning@townofnorthelba.org
Tim Smith
timsmith@adelphia.net

Lake Placid Joint Planning Commission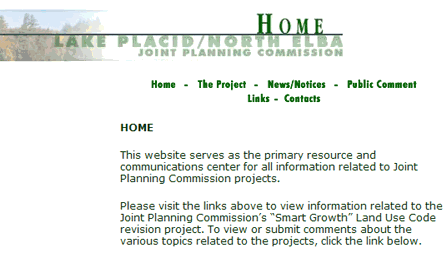 click here to visit their website

Please visit the website above to view information related to the Joint Planning Commission's "Smart Growth" Land Use Code revision project.
THE PROJECT
The Joint Planning Commission's website serves as the primary resource and communications center for all information related to Joint Planning Commission projects.
In 1997, the Village of Lake Placid and Town of North Elba completed a Joint Comprehensive Plan which recommended the adoption of a Joint Lake Use Code to serve both municipalities. Undertaken largely by dedicated volunteers, the new Code was adopted in December 2000, which also created a Joint Planning Commission (JPC).
During the past few years, the Lake Placid/North Elba community has experienced increasing growth pressures stimulated by tourism, sports events, second home development and a steady migration of year-around residents. In 2004, the JPC undertook a weeklong intensive assessment of the community's growth management practices, led by the consulting firm of AKRF. The Growth Management Assessment consisted of seven workshops, concluding with a presentation of the firm's findings. The assessment outlined a "blueprint" of priorities for improving the community's growth management practices, one of which was to update the Joint Land Use Code.
The Town and Village have contracted with "LandWorks," a planning and design firm based in Middlebury, Vermont to work with the community in preparing a "Smart Growth" Joint Land Use Code.
There will be periodic public meetings or forums once the process is started to include the community during the revision. This website also provides a form for the public to submit input regarding the Code revision. Once a draft Code has been completed, it will be presented to the Town Board and Village Trustees. Subsequently, the draft will be presented at a public information meeting for review and comment.